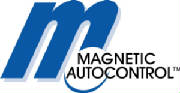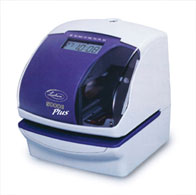 An electronic time recorder that functions as a time recorder, time stamp or numbering machine.
The 5000E Plus is a multi-purpose time recorder designed to handle all of your business's essential time recording needs. As a time clock, the 5000E prints the time and date on cards or job tickets for calculating payroll or costing jobs.
The same unit can also be configured to append comments such as PAID and SENT to the time and date, making it an ideal choice for stamping important documents. And if your application requires the unique identification of documents, the 5000E can even be set to operate as a numbering machine, printing up to a eight-digit number that advances based on your settings.
The 5000E is ideal for customers that require the printing of specific words or comments in addition to the date and time. The 5000E can now print up to three lines each having its own unique configuration. For example, a company may want to print their name on the first line, followed by a second line with the date and time, and a final line with a comment such as APPROVED. Sequential numbering can also be added to any of the print lines. For those customers that do not need custom printing, the 5000E can print time and date in dozens of different preset formats. In adition to the custom coment feature, the ability to print seconds and 4-digit years, as well as a programmable pass code for extra security are now included as standard on all 5000E Time Recorders.
Standard Features Include:
Customizable printing on up to three separate lines.
Optional 24-hour operational baTTERY BAckup.
Optional built-in relay for controlling external bells or horns.
8-digit sequential numberin.
6 preset languages including Spanish and French.
13 preset commens such as PAID or SENT.
Selectable automatic or manual print activation.
Perpetual calendar until the year 2089 changes year, month and date automatically.
Lithium-backed backed clock never needs resetting and keps time during power interruptions.
Flexibility, reliability and ease of use make the 5000E Plus an ideal solution for multiple time recording needs within companies that require robust time recording functionality.
Download Brochure