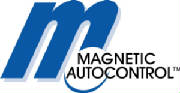 An electronic payroll recorder that features 6-column shift, 2-color printing and an external signal relay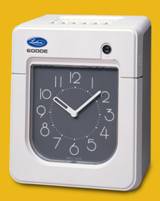 The Model 6000E Electronic Payroll Recorder is designed for businesses that need a fast and reliable way to track employee attendance. The Model 6000E is packed full of automated features to reduce time clocking in and out. Employees simply drop their time card in the top, and the clock automatically feeds, aligns, prints, and ejects the card in just seconds.
The 6000E's dot matrix printer can be easily programmed to print the time in 12 hour (AM/PM) or 24-hour format, as well as in regular minutes or 1/100 of an hour. A programmable time table can be used to automatically shift between one of six columns across the card to accomodate additional break and overtime punches. The day advance time is also user-defined allowing employees to work past midnight. A built-in relay allows synchronized bell ringing to indicate the start and stop of work periods and breaks. Standard two-color printing can be used to highlight tardy arrivals and early departure in red for quicktime card auditing. Unlike traditional time recorders, the 6000E never needs resetting following a power interruption, due to its lithium battery-backed memory. An optional rechargeable battery also allows for full operation for 24 hours or 100 punches in case of power failure. The clocks perpetual calendar changes the year, month, date, and even adjusts for daylight savings automatically. The clock is accurate to within 3 minutes per year.
Download Brochure