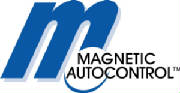 Heavy Duty Document Stamps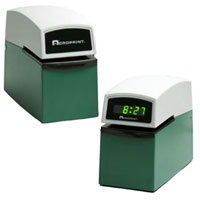 These durable time and date stamps are used by susinesses worldwide and are suitable for any business environment.
ET and TC at a glance
Dependable - A reliable, quality-designed motor provides the highest accuracy
Tough - The E-Series stamps' heavy-duty construction withstands harsh environments and hundreds of print registrations per day.
Adjustible - Easy print control adjustment allows for multi-copy printing.
Precise - Electronically controlled printing assures clean instant registration. Precision typewheels deliver a sharp, clean imprint to penetrate multiple copies.
Versatile - With available custom engraved imprint plates and custom typewheel conigurations, these stamps are suitable for virtually any time, date or number stamping application.
Easy to use
Inserting a document into one of these heavy-duty time stamps activates the sturdy automatic print mechanism, allowing convenient one-handed operation. Precision typewheels deliver a sharp clean imprint and can pentrate multiple copies. These stamps provide an efficient, cost effective way to register year, month, date and time on important documents such as incoming mail, purchase orders and shipping/rceiving documents.
The ET and the ETC models are identical, except that the ETC also includes a bright easy-to-read digital time display.
Built to last
Our rugged and dependable document control stamps can handle hundreds of print registrations per day. All units are rust and corrosion resistant and are made in the USA.
Custom imprint plates
Custom Imprint Plates are available, which allow for custom imprints on all documents in addition to the date, time or document number. For example, you could imprint your company or department name, or text of your choice, such as Received or Filed.
These sturdy, solid-metal plates are engraved right at the factory to your specifications. You benefit from exceptional attention to detail and lightning-fast turnaround. Plates can accomodate up to four lines of text in your choice of four typefaces.
More configurations for a variety of uses
In addition to our standard year/month/date/time typewheel configuration offered here, versatile Acroprint E-Series document stamps can be built to order with special typewheel configurations to fit your specific needs: date only, numbers only, number and date, and custom text.
Download Brochure