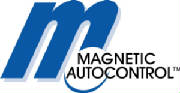 Flexible and expanable time and attendance suite offering many configuration options: Now with USB Flash Drive for Remote Sites & Windows 7 Compatible!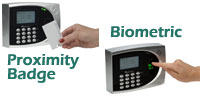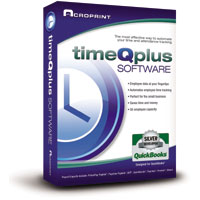 This versatile suite of time and attendance systems offers a variety of options to perfectly suit the way you do business - right now and into the future. Control your labor costs while you save time and money on payroll preparation.
The timeQplus V3 solution at a glance
Flexible - easily manage your business your way: PC punch, Proximity badge terminal, Finger-scan biometric terminal, or any Combination. The software can be configured to work with a wide range of payroll policies and will accomodate both hourly and salaried employees.
Economical - saves you time and money on payroll preparation. Supervisors can edit and approve the electronic time cards at the PC. The software automatically calculates hours worked and exports data to most popular software and services including ADP and Quickbooks. This reduces cleical errors while streamlining the payroll process.
Expandable - This system grows with your business. Start with what you need now, and easily add capacity as your needs change. Add more terminals any time; you can even mix biometric and proximity-badge terminals on the same system! Software upgrade packs are also available to expand capacity to a total of 250 employees.
Choose Your Configuration
To make it even easier to get started, timeQplus is available in several standard configurations. You can opt for software upgrades and additional terminals at any time to customize your system to meet your specific needs.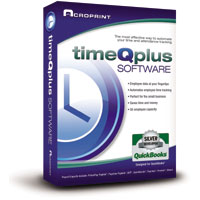 Download timeQplus Software Brochure
timeQplus V3 Software - quick and easy PC punch.
With timeQplus software, up to 50 employees can clock in and out at a single designated PC. Add a network upgrade and employees can clock in and out at ant networked PCs you choose, including the networked PCs on their own desks. Upgrades are also available to expand system capacity to as many as 250 employees.

Download timeQplus Proximity Brochure
timeQplus V3 Proximity - Convenient proximity badge punching
Employees clock in and out with a simple wave of their badge in front of the terminal, or via keypad entry. This complete kit includes software for 50 employees (expandable to 250 employees), software network upgrade, 15 proximity badges, and one TQ600P proximity terminal with cables, power supply and mounting hardware.

Download timeQplus Biometric Brochure
timeQplus V3 Biometric - Virtually eliminates costly "buddy punching."
Employees clock in and out with a simple finger-scan, finger-scan and PIN, or PIN password. This kit includes everything you need to get started - software for 125 employees (expandable to 250 employees), software network upgrade, and one TQ600 biometric terminal with cables, power supply and mounting hardware.
Terminal Specifications
Please note: your system must have a Software Network Upgrade installed before you can install Proximity or Biometric terminals. You can mix-and-match Proximity and Biometric terminals on a single system.
Terminals also include a USB port for use with a USB Flash Drive (or Thumb Drive). In remote locations you can download data via the Flash/Thumb Drive.
Terminals feature a large and bright backlit LCD display and can be connected to your PC or network via USB, serial (RS232) or thernet.
Each terminals built-in memory can store up to 50,000 transactions. An internal battery ensures punches stored in the terminal are retained even in the event of a power outage. You schedule the software to automatically poll the terminals and retreive the stored transactions.
Terminals are available in your choice of English/French or English/Spanish.
Eay to Install, Easy to Use
The timeQplus syatem is an accurate and easy to use record keeping solution ideal for many work environments. This time and attendance solution adapts to the way you do business, not the other way around.
You can quickly install the timeQplus software yourself. A helpful user manual and built-in software "Wizards" will guide you through configuring the software to reflect your timekeeping and payroll policies. You can configure the software interface display in your choice of English, Spanish or French.
The timeQplus software accomodates two classes of overtime plus 7th day overtime for weekly, bi-weekly, semi-monthly or monthly pay periods. You can configure up to 12 shifts, each with their own standard start and stop times and lunch rules.
The software records hours worked for overtime-eligible employees, and records sick time, vacation, holidays and other abscences for salaried exempt employees. There's no longer any need to use different tracking methods for exempt and non-exempt/hourly employees - all your employees can use timeQplus.